Morgan Matson
><><><
This is the newest book by Morgan Matson,
and there
won't
be any spoilers in the main review, but I added some to the end with a warning right before!
Goodreads' Link
to the book
>
I gave this book
2.5 stars
and decided to continue on with the way I previosly did (
link
!)
So I'll tell 2.5 things I liked about the book and 2.5 things I didn't like.
><><><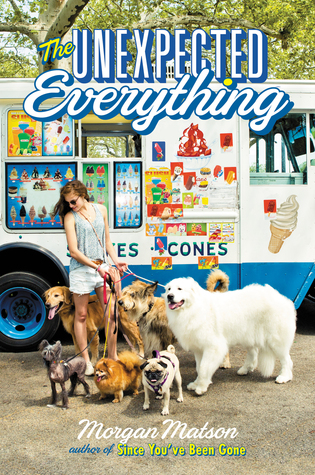 Originally I was drawn to this book because:
a) from time to time you really need a sweet contemporary
b) I've read another book by the same author, and liked it (Amy and Rogers Epic Detour)
c) the book is 500+ pages, which is not that usual for contemporary books. So I had hoped for lots of development, rounding up all thoughts and loose ends, and getting enough of the characters
d) I'd heard lots of good things - no sappy love-at-first-sight for example
But what did I think?
+1|
I really liked the
writing style
and the sweet little things that
lined up
(I always appreciate the work. Example contemporary movie endings "aw she brought a brick cause on the first date they...")
+2|
The character
development
was good, though more with some, none with some. (You'll notice from my next point why I really appreciated this fact)
+/-0.5|
Characters. From the start I wasn't sure what to feel about the main character or the love interest. They grew on me, so the half plus of this point came later so it was more like a consolation... I disagreed with so many decisions they made, and truly some of them were just a no-no.
-1 |
Unexplained
things. (Sure sometimes this can be a good thing that I want to know more, but then again if so much is unanswered, what actually happened in the 500 pages?)
-2 |
Not
invested
, personally that is. And half way I wanted to dnf it. (Not language wise - so just not my cup of tea, though I thought it would be right up my alley.)

I've had problems previously with contemporary books (like My Life Next Door), and when I don't like one I can't exactly put my finger on why. I can't review the fantasy world or arc of action etc. so I don't really review them, but I made an exemption for this, since I was really looking forward to it.
|SPOILERS:
Point +1 situations: the story of the statue, finding out about the painting the mother did as a whole
Point +/-0.5 situations: - for Toby & the dynamics of her drama and friendships, + for carter, and at the end I'm still between +/- for the main character
Point -1 situations: she didn't confront her dad about the old house, she didn't talk to Carter about Topher of latest developments
Overall rounding everything up, I was disappointed. But I do think that lots of people would enjoy it, it just wasn't my cup of tea.