Heart of Iron by Ashley Poston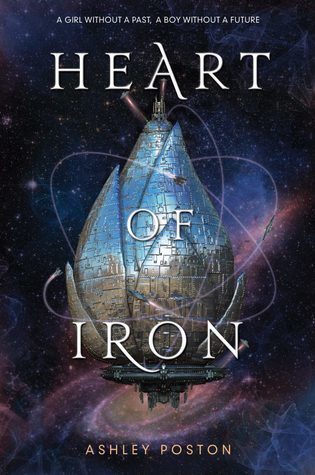 *
e-ARC kindly provided by the publisher HarperCollins in exchange for an honest review!*


SUMMARY
Seventeen-year-old Ana is a scoundrel by nurture and an outlaw by nature. Found as a child drifting through space with a sentient android called D09, Ana was saved by a fearsome space captain and the grizzled crew she now calls family. But D09 - one of the last remaining illegal Metals - has been glitching, and Ana will stop at nothing to find a way to fix him.
Stars:

✦
✦✦
✦.25
So as usual, I'll tell 4.25 things I liked about the book and 0.75 thing I didn't like.


So what did I think
?
First of all I loved Geekerella by Ashley Poston last year and secondly:
robots, space, royalty and battles? What's not to love?
Oh and also it's a retelling of Anastasia. Just throwing that out there - I was excited to dig in.
+1 |

The idea

. It's new yet old: there's the retelling aspect, but at the same time everything is totally new
+1 |

The world:
the sci-fi features were fascinating and refreshing
+1 |
Characters
: some feisty, funny and adorable. The main character goes for what she wants, and the romances were well plotted out even if predictable
+1 |
Gripping
: it started with a bang and the action just kept on going.
Also Poston cleverly gave us just enough answers to keep the ever growing questions at bay
-0.75
|
Along the lines of the first point: the retelling brought the problem of expected plot twists,
but the writing was beautiful
| +0.2
5
Bonus tip:
Droid Serif is a great font on kindle!