by: Ally Carter
As you might know from an old review I really like her writing style, from the Gallagher Girl series, and after getting this from my TBR jar I was very excited! I've been meaning to read this and the next two befor ethe fourth book comes out, this year, and now I have. Well what did I think about it? I loved it!
I really enjoyed reading the Gallagher Girl series as well, can't say which I liked better, but I found it SO fascinating on seeing both sides of things. You will see what I mean in a moment.
What is it about? Goodreads says this: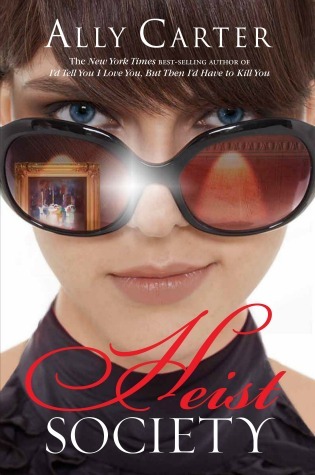 When Katarina Bishop was three, her parents took her on a trip to the Louvre…to case it. For her seventh birthday, Katarina and her Uncle Eddie traveled to Austria…to steal the crown jewels. When Kat turned fifteen, she planned a con of her own—scamming her way into the best boarding school in the country, determined to leave the family business behind. Unfortunately, leaving "the life" for a normal life proves harder than she'd expected.
Soon, Kat's friend and former co-conspirator, Hale, appears out of nowhere to bring Kat back into the world she tried so hard to escape. But he has a good reason: a powerful mobster has been robbed of his priceless art collection and wants to retrieve it. Only a master thief could have pulled this job, and Kat's father isn't just on the suspect list, he is the list. Caught between Interpol and a far more deadly enemy, Kat's dad needs her help.
For Kat, there is only one solution: track down the paintings and steal them back. So what if it's a spectacularly impossible job? She's got two weeks, a teenage crew, and hopefully just enough talent to pull off the biggest heist in her family's history--and, with any luck, steal her life back along the way.
What was I on about both sides? Well see if you've read Gallagher Girls you know they are about a girl spy school where they train to be well agents. Fighting the bad all in all when Heist Society is the opposite about burglars and robberies. Both have teenage girls in the lead and a crew behind them but they have different goals for their lives. Cammy, from GG, is so happy to be in the family business of spies when Kat, From HS, desperately wants out of it. Both have their struggles with their families, what they do and with boys. Sigh... Oh the drama after boys... Yet I still enjoy some in books :)
So yes I really enjoyed this book. It was fast paced, I loved the characters (exept one...), it was descriptive text and I loved how the chapters were divided into days (since Kat had a deadline).
Have you read it? What did you think?
Love & Hugs,
Sally