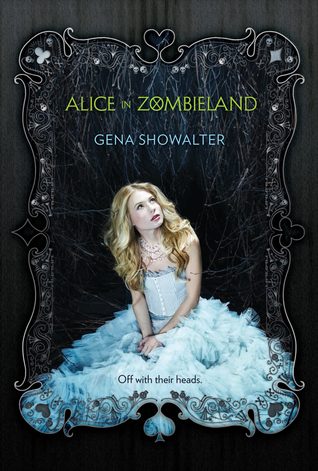 by: Gena Showalter
The white rabbit chronicles is a very separate story from the Alice in Wonderland which it is retelling. It has a lot of twists and is slightly like the other in various little ways. Like the chapter names and the fact that she does get lost into another world, well kinda, and there is some rabbity followings of sorts. And I have to say beautiful cover!
Goodreads's thing-ma-jic:
Had anyone told Alice Bell that her entire life would change course between one heartbeat and the next, she would have laughed. From blissful to tragic, innocent to ruined? Please. But that's all it took. One heartbeat. A blink, a breath, a second, and everything she knew and loved was gone.
Her father was right. The monsters are real….
To avenge her family, Ali must learn to fight the undead. To survive, she must learn to trust the baddest of the bad boys, Cole Holland. But Cole has secrets of his own, and if Ali isn't careful, those secrets might just prove to be more dangerous than the zombies….
I wish I could go back and do a thousand things differently.
I'd tell my sister no.
I'd never beg my mother to talk to my dad.
I'd zip my lips and swallow those hateful words.
Or, barring all of that, I'd hug my sister, my mom and my dad one last time.
I'd tell them I love them.
I wish... Yeah, I wish.
I saw the book in the library and hadn't heard anything about it. The thing that cought my eye was the fact that it's a fairytale retelling! I LoVe them! So I read it and I did like the book overall. The text flowed and from the very beginning there was no slowing down. I read it in a day and I had a blast!
But it did have its faults as most do. Some scenes were irrelevant to the plot and in my opinion could have been erased. I also disliked the fact of her being appealed to the tough guys because of their appearances...
Hugs,
Sally