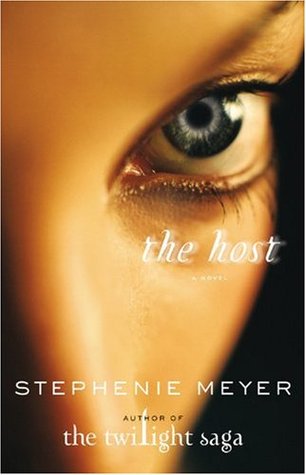 I'm sure most of you have heard of this Stephenie Meyer book. I read it on a long train ride to and from. I still hadn't come to read it in the years it has been out. I guess it was for my dislike for aliens in books. I don't know why I do dislike them but after a friend suggested me reading this book next I decided to take a try. Why not really. So I read it. And I liked it.
I'll keep this part, of the books pros and cons, short:
+
The pace of things kept me reading
-
The confusion about one person being two and having someone to love for both...
After I finished this book I went ahead and watched the movie. I must say I might have liked it even a bit more. Though I did like it more because of the fact that it was less confusing. Then again if I had seen it before reading it I would have thought the other way.
The movie changed a lot of the things the book had. Some parts I really liked and they cut them out, but other scenes the movie had which I liked and the book didn't have.
One thing I also must ask, how is she going to continue on with he series? It came out a long time ago and I think it ended in a good way. Can't some books just be left as a only one. I sometimes find that many series could be cut and ended earlier. Like the Mortal Instruments could have stayed as a trilogy and i would have liked that. So with this I am a bit skeptical. Maybe I am being too harsh but many trilogies could be stand-alones. There are ofcourse those that have been good series and I am happy that they continued but I really like stand-alones too.
Hugs,
Sally