by: Stephanie Perkins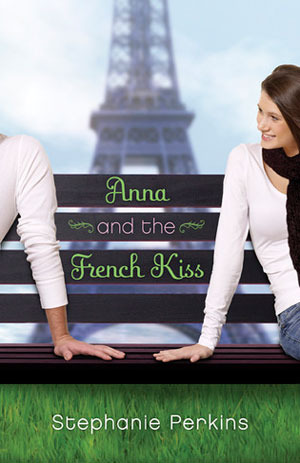 I was in the mood for a happy contemporary book. And so I picked up this book, and I found it to be great!
Before reading this book I had heard a lot of positive things, not too much to give extremely high expectations though so that was nice. It seemed like a perfectly cute summery read, and that it was.
The book started out very nicely and it made me want to read more and more and more and just swallow up the whole book. I didn't exactly read it in one sitting but during the course of one day yes.
So what is it about? Goodreads says this (I cut out the spoilery bits and added what I thought it needed:)
Anna is looking forward to her senior year in Atlanta, where she has a great job, a loyal best friend, and a crush on the verge of becoming more. Which is why she is less than thrilled about being shipped off to boarding school in Paris--thanks to her father.
She is miserable until she finds out that the people she has met there can be friends to her. Lets not forget about Étienne St. Clair. Smart, charming,
beautiful
, Étienne has it all...including a serious girlfriend.
The writing style was both descriptive and not- leaving space to think for your own. So the writing style was to my liking and so were the characters and setting. I LoVeD that they were in France and I liked all the characters which was new to me! Even the ones I doubt everyone did... Anna became my favorite character even though at times I wanted to shout to her and show that what is happening isn't all bad.
This book is a first in a series. Well technically, see they are more like companion novels to each other. Even so I will definitely want to continue on on new adventures by Stephanie. I recommend it to all the contemporary romance book lovers, ones who like cute summer reads and those who are in want of expanding what they read. From this book you might find a new favorite :)
Love & Hugs,
Sally